WELCOME WASH CLUB MEMBERS!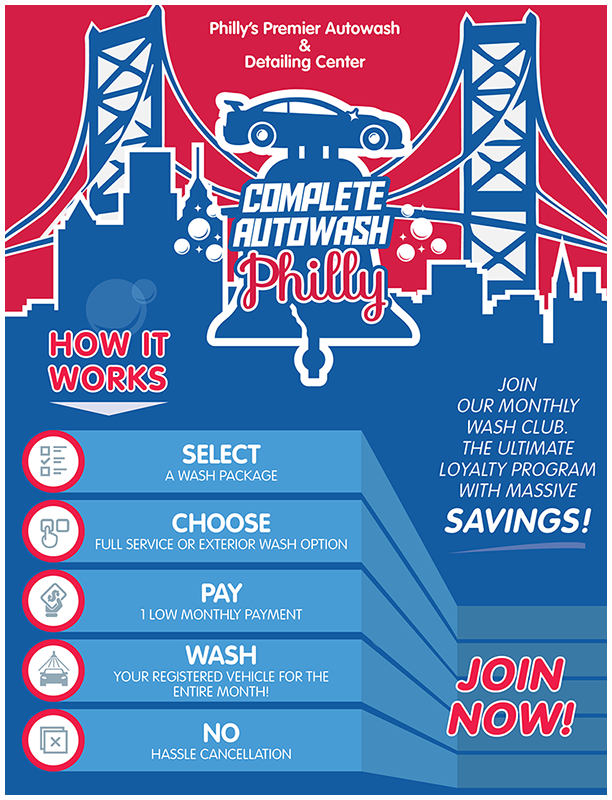 We're introducing the ULTIMATE customer loyalty program at our Hunting Park Location! Members who sign up have a wide range of options to choose from in terms of which package they'd like to purchase. Members who sign up will receive their own unique barcode for their REGISTERED (1) vehicle. Depending on which service chosen, FULL SERVICE OR EXTERIOR, members gain the flexibility to wash their registered vehicle(s) at any time during the month while their membership status remains active! If you decide that you do not like the experience, then you may choose to cancel it at any time.
LIVERY VEHICLES "TAXI'S • UBER • LYFT" WILL BE CHARGED AN ADDITIONAL $10 ON ALL PACKAGES

(Cancelled memberships will void immediately after the duration of the paid month. REMEMBER that if you cancel your membership, then you must come to the Hunting Park location to have the barcode removed. If you choose to keep it until you reactivate, then keep in mind that this barcode, while UNACTIVE, will not work. IF YOU TRY TO RIP THE BARCODE OFF TO PUT IN AN UNREGISTERED VEHICLE, THEN IT WILL AUTOMATICALLY BREAK, AND WILL NOT WORK AT ALL. IF THAT IS THE CASE, THEN THE CUSTOMER IS RESPONSIBLE FOR PURCHASING THE NEW BARCODE. Thank you for understanding!)
To download the app please click below.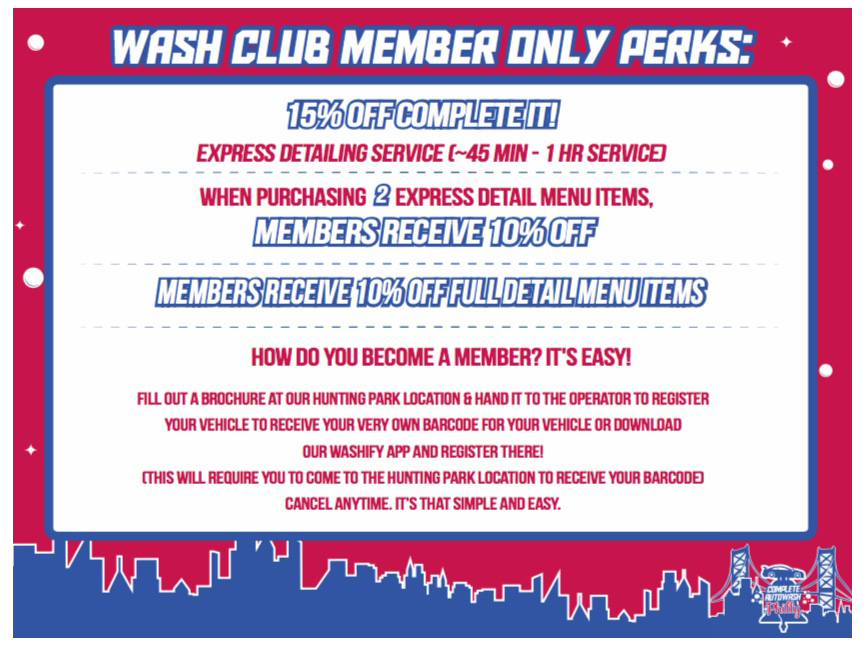 PHILLY'S PREMIER AUTOWASH & DETAILING CENTER
FOLLOW US ON SOCIAL MEDIA
NOTE TO CUSTOMERS:
Disclaimer: ALTHOUGH OUR WASH IS SAFE FOR WASHING VEHICLES, WE WILL NOT BE HELD RESPONSIBLE FOR ANY DAMAGE DONE TO YOUR VEHICLE, NO MATTER THE CASE. YOU PUT YOUR VEHICLE IN THE WASH AT YOUR OWN RISK! IT IS YOUR RESPONSIBILITY TO REMOVE ALL VALUABLES (ANYTHING YOU DEEM VALUABLE OR USEFUL) FROM YOUR CAR BEFORE EXITING THE VEHICLE. PLEASE ADHERE TO THESE RULES, AS THIS AVOIDS A LOT OF HEAD AND HEART ACHE. THIS IS YOUR FINAL AND ONLY WARNING. IF YOUR VEHICLE IS UNKEMPT AND DAMAGES ANY EQUIPMENT IN OUR TUNNEL, THEN IT WILL BE THE CUSTOMER'S RESPONSIBILITY TO PAY FOR THE REPLACEMENT OR REPAIR DONE TO OUR EQUIPMENT. THANK YOU.